CHCSS Partners
Proud Partner to AVG Antirus Products, Detects and stops viruses, threats and malware.
Our job is to stop viruses before they even get to your PC. We check your files before you open them, your Facebook links before you click, your email before it gets to you and your websites before you visit them.

Proud Partner of Infinite Networks Canberra.
Infinite* delivers Enterprise broadband network & hosting solutions including cloud and virtual solutions, website development, website hosting, whilst ensuring your business remains accessible online, secure and up-to-date in an ever-changing world of technology.

Proud Partner of Flexirent.
Flexirent offers businesses flexible computer rental solutions for IT and computer technology equipment. Flexirent computer finance gives businesses the freedom to deal with a supplier of their choice and negotiate their own packages after finance approval. .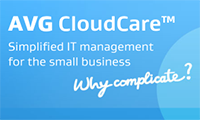 AVG CloudCare.
Whether you need to make real-time changes to one PC or a whole network, AVG CloudCare simplifies IT management.